---
Author Bio
Hindy's greatest passion in life is animals and their welfare. She is an advocate of shelter adoption, and looks forward to the day every puppy mill is shut down. She is a certified dog trainer, dog behaviour consultant, and pet loss grief support coach. She is a long time shelter volunteer, and fosters and adopts senior and special needs dogs and cats.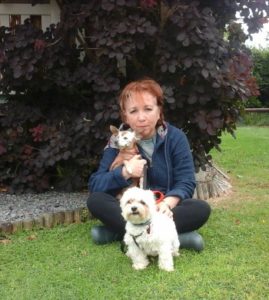 ---
I have wanderlust!! I'm not sure how else to say it, but I start to get antsy if I'm in one place for too long. Of course having pets makes it less spontaneous, but I couldn't imagine life without them, so I adapt.
I have been travelling with senior dogs and cats for 12 years, so I've learned a thing or two along the way. All my trips have been flights of 3- 9 ½ hours, so I will be talking specifically about flying.
The first time I flew with animals was 12 years ago when I moved to England with my 5 cats, and relatively new husband. England had quarantine then, but rumours were swirling about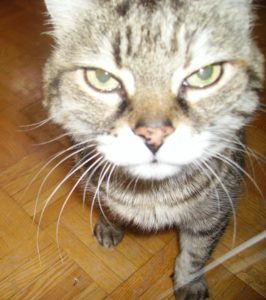 ending that, so I waited a few months until it was abolished, and off we went. Imagine the site at the airport, wheeling 5 cat crates around!
Everything I will talk about here, is based on my travels and experiences with seniors, but will apply to pets of all ages. It's stressful, no question about it, but these tips will help you minimise it as much as possible.
Are they fit to fly?
The first thing to do is make an appointment with your vet, to be sure your animals are all healthy enough to fly.
Do they really need to travel?
If you're flying off somewhere for just a few days, can your senior handle the stress of the flight, scary noises, new sights and your plans once you arrive?
Think about where you're going, and what you'll be doing. Crowds, parties and loud music may be too much, or will she spend most of her time alone in a hotel room, while you're off touring the city?
I hate being separated from my golden oldie, but I won't fly with her unless we're going away for at least a couple of months.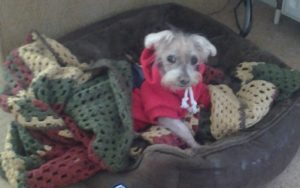 Perhaps finding a reliable pet sitter to stay in your home, is a better option.
Airline requirements
Flying will be stressful enough, you want the trip to be as smooth and problem free as possible.
Do not book a flight before you are very clear on the airline's policy about traveling with pets. Their website should have all the information you need. If you want to speak to an agent by all means, but in my experience you can't rely on them to know. I've spoken to reps who had no idea pets were even allowed on the plane!!
A few questions to ask
What, if any, documentation is needed? Health certificate, proof of rabies… and how close to the time of departure any paperwork should be dated.

Can your pet be with you in the cabin, or is it cargo all the way? Airlines I have flown had a weight maximum of 10lbs per pet in the cabin, but confirm with yours.

If your pets are flying cargo, how early do you have to arrive and what paperwork is needed.

Are there special requirements for crate type and size?

What about blackout periods when animal reception centres are closed? Ask about Christmas and New Year opening hours.
There are limits to the number of pets allowed per person in the cabin (1), and in total in cargo. With some flights, cargo will only allow you to reserve a spot for your pet 2 weeks before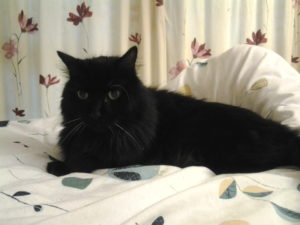 departure, even though you bought your ticket long before that.
Crates/kennels
No matter how many trips I have made, this to me is the most nerve wracking. Check not only the airline requirements, but specifications regarding size at your arriving country.
Your dog or cat should be able to lie down comfortably, no body parts touching the sides, stand up and turn around easily, again, no body parts touching, roof included.
Your pet will pee and probably poop in the carrier, and there's nothing you can do to prevent a mess! I line the bottom with pee pads, than put a nice comfy blanket in the back not only for padding, but in case they get cold they can wrap themselves in it.
All crates and carriers, including for the cabin, need to be airline approved. Some airlines will send you a list of the brands they recommend, so find out if they have a preference.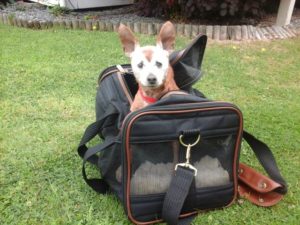 For on board travel I use the Sherpa bag for many reasons, including the fact it is approved by the most airlines.
A tip about water… We know how serious dehydration can be, and in a senior pet can turn life threatening too quickly. If your pet is with you in the cabin, be sure to give some water during the flight.
For cargo travellers, find yourself a decent sized plastic container, not too shallow that water easily spills out, or too deep your pet can't reach. Make a small slit on the side, slide a plastic tie wrap through it then attach to the crate door. Attach a plastic funnel to the door from the outside, so the end is aimed into the water container.
Staff are not allowed to open any pet crate, but are really good about topping up water bowls before they are loaded onto the aircraft. The funnel will allow them to do that easily, without getting the inside of the crate wet.
To make the water last longer, freeze a little bit in the container, then top up the rest with fresh water.
Entry requirements of your destination country
Each country will have their own set of rules in terms of what is required when entering their country with pets. Some may be happy with a rabies certificate, others require mountains of paperwork that if not filled out perfectly, will end up with your pet in quarantine. Not something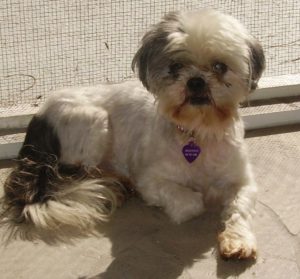 you want for any age, and definitely not a senior.
Start your search online by typing in "bringing my dog to Spain" for example, and take it from there.
I advise you to stick with "official" websites, and if something isn't clear, call to clarify.
In my experience, the number one thing every dog and cat needs is a rabies shot, so get that done as soon as possible (but make sure your pet is microchipped first!). There may be a waiting time between the shot and when your pet can enter the country.
Some country's rules may seem very confusing at first, and they can be. Take your time, read everything over and over until you're comfortable you understand the requirements. Follow them exactly. If they need a worming treatment at a specific time, make sure it's at that time, because your vet will have to prove it.
Paperwork at the vet
I don't care how many times your vet and staff claim to have done this exact paperwork, rules change all the time so trust what you have learned from official channels, and not them (unless
they make it a habit of being current on rules and regulations).
Identification
Every pet should be microchipped and have a well-fitting collar and ID tag, all with up to date contact information. The order of microchipping and vaccinations is critical, so do not bother with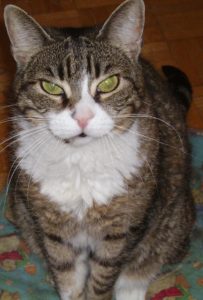 rabies shots, for example, until your pet is microchipped.
Documentation
When flying cargo, paperwork typically accompanies your pet so the animal reception area at your destination can start processing them. Make a copy of everything, and keep them in your carry on bag, not checked luggage.
Bring up to date medical and vaccination records, in case you need to see a vet at some point during your trip.
Medication
Pack all the medication your pet needs, and bring more than you need. Unforeseen circumstances may turn your one week trip into 3 or 4, so it's safer to have extra.
Assuming the sizes comply with security, keep them in your carry on as well. Medication is too important to risk losing, if your suitcase ends up on another flight.
Anti anxiety medication
I think we'd all love to give our pets a pill to knock them out, waking up at the other end refreshed. Unfortunately that's not likely! It is considered dangerous, not to mention banned by many pet travel schemes.
Your vet should be able to recommend something mild, just to take the edge off. There are also natural calming remedies such as Valerian, Rescue Remedy and others that may work. Calming
Try them a couple of weeks before your trip to see how, or if, they help.
Special diet
If your pet is on a special diet, and you are flying into another country, find out their rules on bringing in pet food. You may be surprised to learn how many countries do not allow food that contains meat products. You can cry, and argue and plead that your pet cannot eat anything else but… (yes I have done that!), and you'll be wasting your breath.
If that happens, your vet can recommend an alternative, or contact a local vet before you depart. They may agree to supply you with what you need, with a simple phone call from your vet's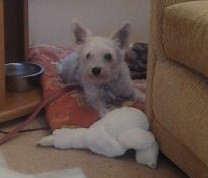 office.
Confirm your animals are on board
Once you leave your animals at cargo, or whatever the drop off point is, you don't see them until you land.
As soon as I board I head straight for a flight attendant, and ask them to check the animals have been loaded. If they say they don't know, I bug them until they check. If they say they can't, it's not true, at least not in my experience.
I can't relax until I know, for a fact, they are on the plane.
Bring money
You will have paid for your pet's flight in advance, yet somehow there are always other charges, so bring extra cash just in case.
Hotels
Fortunately, more and more hotels are pet friendly, but they may have size and weight restrictions. Think about the floor you'd like to be on. If they stick you on the 8th floor, a mile away from the elevator, how will you handle those late night pee breaks? If your dog is arthritic, or pees a lot due to a medical condition, that's a lot of hassle for a quick pee! If your pet will be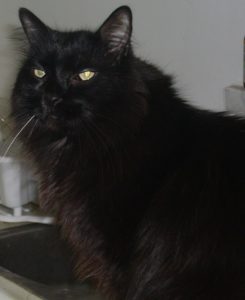 left in the room at times, you may want to leave the "do not disturb" sign on the door, so no one enters to clean. Even if your pet is the friendliest, they are in unfamiliar territory and may panic and bolt.
Supplies
At home you may have a ramp, pet stairs and a stroller to help your dog or cat get around easily. How will your pet cope without them? I have a stroller for my senior dog Red which I don't travel with, but if I need one, they're often cheap enough to buy, then donate to a shelter or rescue group before leaving.
If your pet uses pee pads, bring some with you to get started, until you find a shop that sells them.
Don't forget a sweater or coat if it's going to be cooler, as senior dogs tend to feel the cold a lot more. You may not be able to bring her favourite bed, but how about her blanket and a much loved toy?
Collapsible and fold up food and water bowls are great for traveling, and take up no room.
I highly recommend a harness, even if your dog doesn't use one at home. Being in a strange place with unfamiliar sights and sounds can be unsettling for any dog, and even more so for an old one, so don't take chances with safety.
Know where to go for help
I don't see disaster around every corner, but I like to be prepared. For that reason I always know where the local vet and 24 hour emergency hospital are. Heaven forbid there's an emergency, or even a concern, I don't want to be scrambling.
Comfort them and give them time to adapt
When you arrive, get to your final stop as soon as possible. Set up a quiet area, put down their blanket, some water, a bit of food, a favourite toy and let them unwind. Don't plan any parties or huge gatherings that first night, if you can avoid it.
Your pets may be stiff from being in a crate, and having arthritis may not have helped. How about a self warming mat, or a pad that can be heated in the microwave? It won't take up much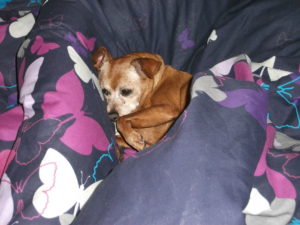 room in your suitcase, and could help.
I have traveled with many old dogs and cats on very long flights, and I'm always amazed at how quickly they bounce back. It takes them a day or two to get used to things, but then they're back to normal.
Thankfully I have never had a problem, but I do as much as humanly possible to make a stressful event as hassle free as possible.
What choice do I have? My animals are part of my family, so where I go they go.
Final thoughts…
There you have it! A bit lengthy perhaps, but when it comes to flying with your pets, I wanted to share as much as I could about my experiences, and how we have handled so many flights.
I truly hope you have found these tips helpful, and I wish you safe travels!
---
For more pet travel tips & advice, join
The Facebook Community
Contact us about guest posting for All Paws Abroad
Comments
comments